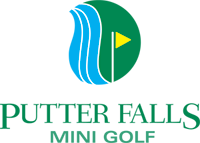 The miniature golf course, named Putter Falls as a result of a naming contest in which more than 100 names were suggested, is state of the art. Gone are the windmill and clown's mouth of yesteryear. Miniature golf is also called Putt Putt golf and is the perfect activity for family fun. Putt Putt golf is enjoyed by family members of all ages.
The miniature golf course, designed specifically for the golf center by national miniature golf course designer Harris Miniature Golf, has as its centerpiece an 8 foot rock water fall. Putting the ball into the river on the signature 9th hole is the preferred shot and may even result in a hole in one! You'll still get a free game for a hole in one on 18 but it is a tough, looping shot.
The Putt Putt golf course is easy to get to from Kent Island, Annapolis. Armold, Severna Park and most of Anne Arundel County.
Prices
Adults: $9.00
Military/Seniors (62 & Over): $8.00
Juniors (12 & Under): $7.00
Ages 3 & Under: Free (with paying adult)
Replay: $4.00