Driving Range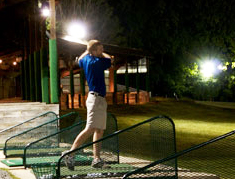 The driving range has benefited from all new hitting mats and new range balls which are replaced annually.
There are 44 stations, all separated by tee dividers for added safety, 15 of which are covered.
Each station has a diagram showing yardages to the various targets on the range.
Ask our staff about the savings on range balls with our prepaid range cards.
Sizes and Prices (Senior Prices 62 & Over)
Small 50 Balls: $8.00 ($7.00 Senior)
Medium 100 Balls: $11.00 ($10.00 Senior)
Large 150 Balls: $13.000 ($12.00 Senior)
Range Card Deals – Even a BETTER OPTION now as bucket sizes are deducted as $7 – $10 or $12 when you use your range card… Savings up front.. and savings at the dispenser… talk about a win-win!!
$20 Gets a $30 Value
$50 Gets a $75 Value
$100 Gets a $175 Value
$200 Gets a $375 Value